MedusasROC
Regular price
Sale price
$49.99 USD
Unit price
per
Sale
Sold out
Share
Embark on a journey of unparalleled pleasure with the Aria Flutter Tongue Vibrator, the epitome of innovation in oral sex tongue vibrator. Redefine intimate moments as the Flutter Tongue tantalizes and delights, offering an experience that goes beyond the ordinary.
Crafted with precision and designed for pleasure seekers, this tongue vibrator stands out as the best in its category. The sub keyword, "best tongue vibrator," reflects the excellence embodied by the Aria Flutter. Its unique design mimics the gentle caresses of a skilled tongue, ensuring each touch is both thrilling and satisfying.
Indulge in customizable pleasure with the Flutter Tongue's multiple vibration modes and intensity levels. Whether you're exploring solo or with a partner, this versatile vibrator adapts to your desires, creating a symphony of sensations that cater to your unique preferences.
Compact and travel-friendly, the Aria Flutter Tongue is discreetly designed for spontaneous pleasure wherever you go. Its ergonomic shape fits comfortably in your hand, allowing you to effortlessly navigate the paths of desire. Let this tongue vibrator be your guide to a world where every touch is a dance of ecstasy.
Elevate your sensual escapades with the Aria Flutter Tongue Vibrator – the ultimate choice for those seeking the best in oral sex pleasure. Embrace desire, explore the heights of satisfaction, and let the Flutter Tongue whisk you away into a realm of intimate bliss.


Aria Flutter Tongue Vibrator from Blush Novelties.
The Aria Flutter Tongue arouses and excites with the flickering motion of its soft silicone tips! Flutter Tongue delivers 7 different vibration modes and quiet operation. Its fluttering tips create tantalizing sensations against clitoris or nipples. Made of body safe, satin smooth silicone, Flutter fits easily into the palm of your hand. A hygienic storage cap covers the internal stimulator to make sure your toy stays clean and discreet.
Details:
7 powerful, quiet vibration functions.
Easy to use. Ergonomic shape for easy grip. Hygienic storage cap.
Splashproof and waterproof for easy cleaning.
USB Rechargeable vibrations.
Made from Satin smooth, body safe Silicone. Contains no fragrances, phthalates or latex.
USB rechargeable. 

Battery is Lithium Polymer.

Color: Purple.
Materials: ABS, Silicone. Phthalate free.
Size: 2.5 inches in length. 1.5 inches in width. Circumference 4.71 inches. 
5 years warranty by Blush Novelties.
Categories: Clitoral | Rechargeable Vibrators | Tongue Vibrators | Sextoys for Women


Size chart
View full details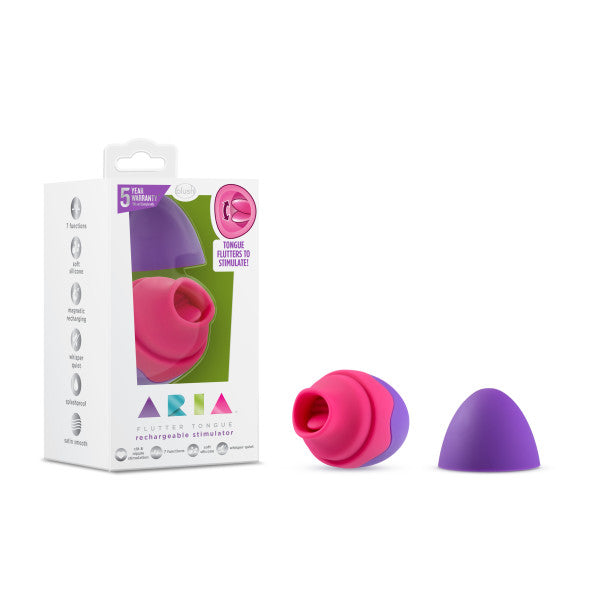 List your shipping policy
Share your domestic shipping prices

Share your international shipping prices