MedusasROC
Regular price
Sale price
$27.99 USD
Unit price
per
Sale
Sold out
Share
Embark on a journey of heightened pleasure with High Climax Female Stimulating Cream. Meticulously crafted to amplify your intimate experiences, this stimulating cream is your key to unlocking new realms of satisfaction.
Indulge in the luxurious texture of High Climax as it enhances arousal and intensifies sensations. The thoughtfully designed formula promotes increased blood flow, awakening your desires and making every touch more electric. This female stimulating cream is more than just a product; it's an invitation to explore and embrace your sensuality fully.
High Climax isn't just about reaching the peak; it's about savoring the entire journey. With a velvety texture for smooth application, this stimulating cream adds an extra layer of pleasure to your intimate moments. Whether you're enjoying self-love or enhancing partnered play, High Climax is your trusted companion.
Experience confidence and satisfaction with discreet packaging and easy application. Elevate your desires, rediscover pleasure, and make every touch count with High Climax Female Stimulating Cream. Because every woman deserves a more fulfilling and satisfying intimate experience, High Climax is here to enhance your pleasure and leave you craving more.
This product does not contain THC or psychoactive ingredients.
Ingredients: De-Ionized Water, Aloe Barbadensis Aloe Vera Gel Juice, Stearic Acid, Cetyl Alcohol, Glycerin, Dimethicone, Helianthus Annuus Sunflower Oil, Zemea Corn Propanediol, Methyl Salicylate, Tocopheryl Acetate Vitamin E, Cannabis Sativa Hemp Seed Oil, Carrageenan, Lecithin, L'Arginine HCl, Niacin, Glycyrrhiza Glabra Licorice Root Extract, Panax Ginseng Root Extract, Tongkat Ali Extract, Citrullus Lanatus Watermelon Extract, Dioscorea Villosa Wild Yam Root Extract, Echinacea Purpurea Extract, Menthol, dl-Panthenol, Ascorbic Acid, Methyl Nicotinate, Parfum Fragrance, Sodium Hydroxide,Phenoxyethanol, Ethylhexylglycerin.
Made in the USA. 
Categories: Health & Beauty | Creams | Erotic Body Lotions | Lubricants | Massage Lotions & Creams


Size chart
View full details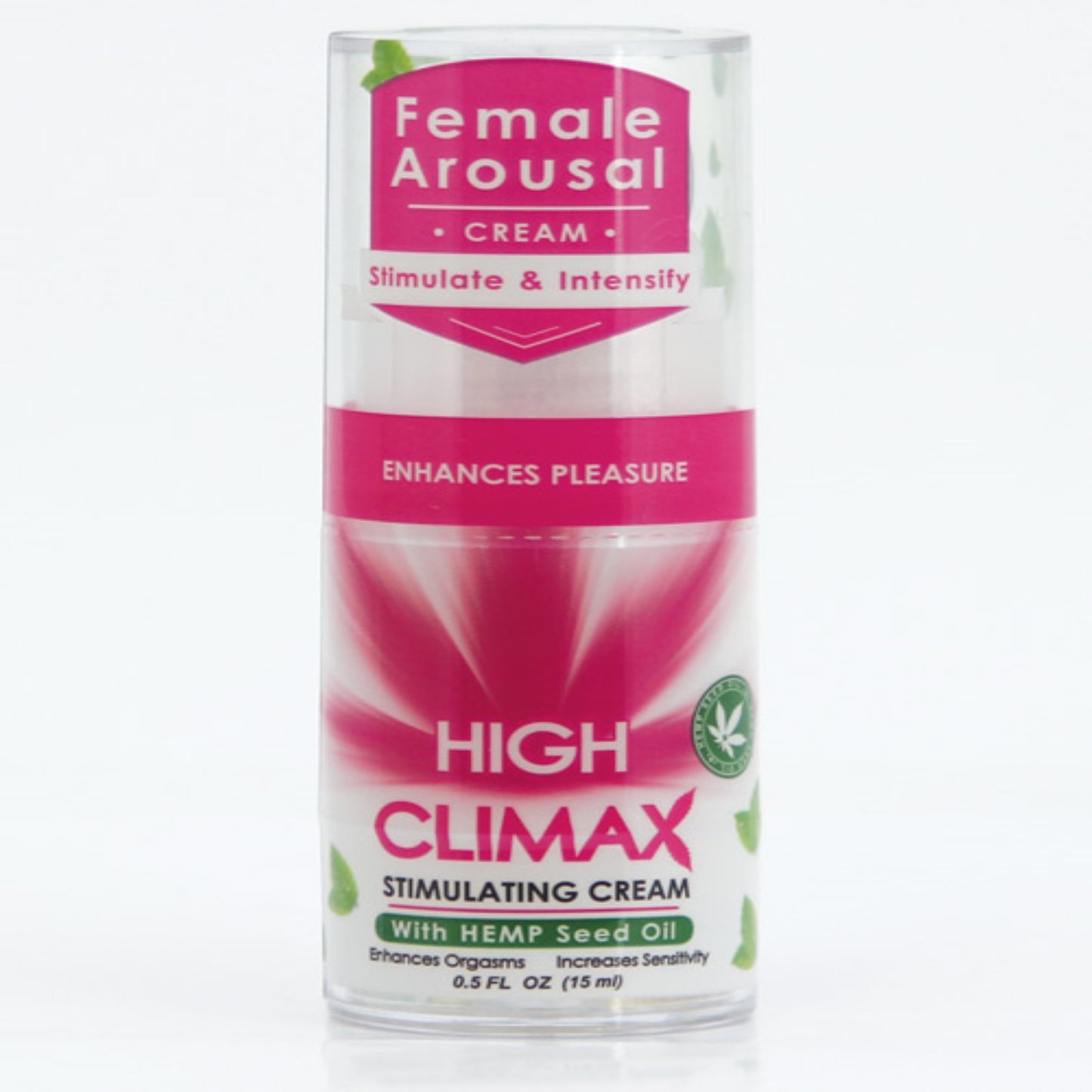 List your shipping policy
Share your domestic shipping prices

Share your international shipping prices