MedusasROC
Regular price
Sale price
$99.99 USD
Unit price
per
Sale
Sold out
Share
Introducing the Evolved Wanderful Sucker, the epitome of pleasure and innovation in adult intimate accessories. Elevate your sensual experiences with the best suction toy designed for maximum satisfaction. Immerse yourself in a world where sophistication meets desire, as this premium device takes you on a journey of unparalleled pleasure.
Crafted with precision and featuring advanced suction technology, the Wanderful Sucker is more than just a product; it's a gateway to ecstasy. Indulge in the customizable settings that cater to your unique desires, allowing you to orchestrate the perfect symphony of pleasure. This suction toy redefines the standards, ensuring that every touch is precisely tuned to elevate your intimate moments.
Discover the unparalleled joy of self-discovery and shared intimacy with the best adult suction toy on the market. The sub keyword, "best adult suction toy," encapsulates the excellence and sophistication embodied by the Wanderful Sucker, inviting you to explore the pinnacle of pleasure.
Compact, discreet, and travel-friendly, the Evolved Wanderful Sucker ensures pleasure is always within reach. Whether you're a solo adventurer or exploring with a partner, this suction toy promises an experience that goes beyond expectations.
Choose excellence, choose the Evolved Wanderful Sucker – your ticket to the best in adult suction toy technology. Redefine your intimate moments, embrace desire, and let the Wanderful Sucker lead you into a world where satisfaction knows no bounds. Elevate your pleasure, and make every moment extraordinary with the best suction toy in your hands.


Evolved Wanderful Sucker Wanderful Sucker Wand Massager.
This hard working sex toy is an intense Vibrating Wand at one end and an satisfying suction toy at the other. Enjoy 10 vibration speeds and patterns in the round, textured wand head that moves with the body on its flexible neck. The wand is completely covered in creamy, smooth silicone for a seamless experience that can be kicked into Turbo Mode for super intense vibrations that last as long as you desire. Turn the toy over to access the suction orifice that sucks in 3 delicious speeds from gentle to intense. Magnetic rechargeable. Easy to clean, splashproof.
Details:
Wand vibrator with suction and turbo mode.

Textured, round, flexible wand head.

10 vibrating speeds and patterns in wand. Turbo mode boosts vibration motor. 3 sucking functions in oval orifice. 2 motors controlled separately.

Made from creamy smooth silicone. Detail made from chrome finished ABS Plastic. LED Lights in button when in use. Phthalate free and latex free.

Height 8.5 inches. Depth 1.82 inches. Width 1.65 inches. Bulk weight under half a pound. Insertable length 1.75 inches. Insertable diameter 1.56 inches.

Magnetic rechargeable, USB cable included. 

Splashproof.
Categories: Health & Beauty | Clitoral | Rechargeable Vibrators | Body Massagers | Vibrators | Magic Wands & Body Massagers


Size chart
View full details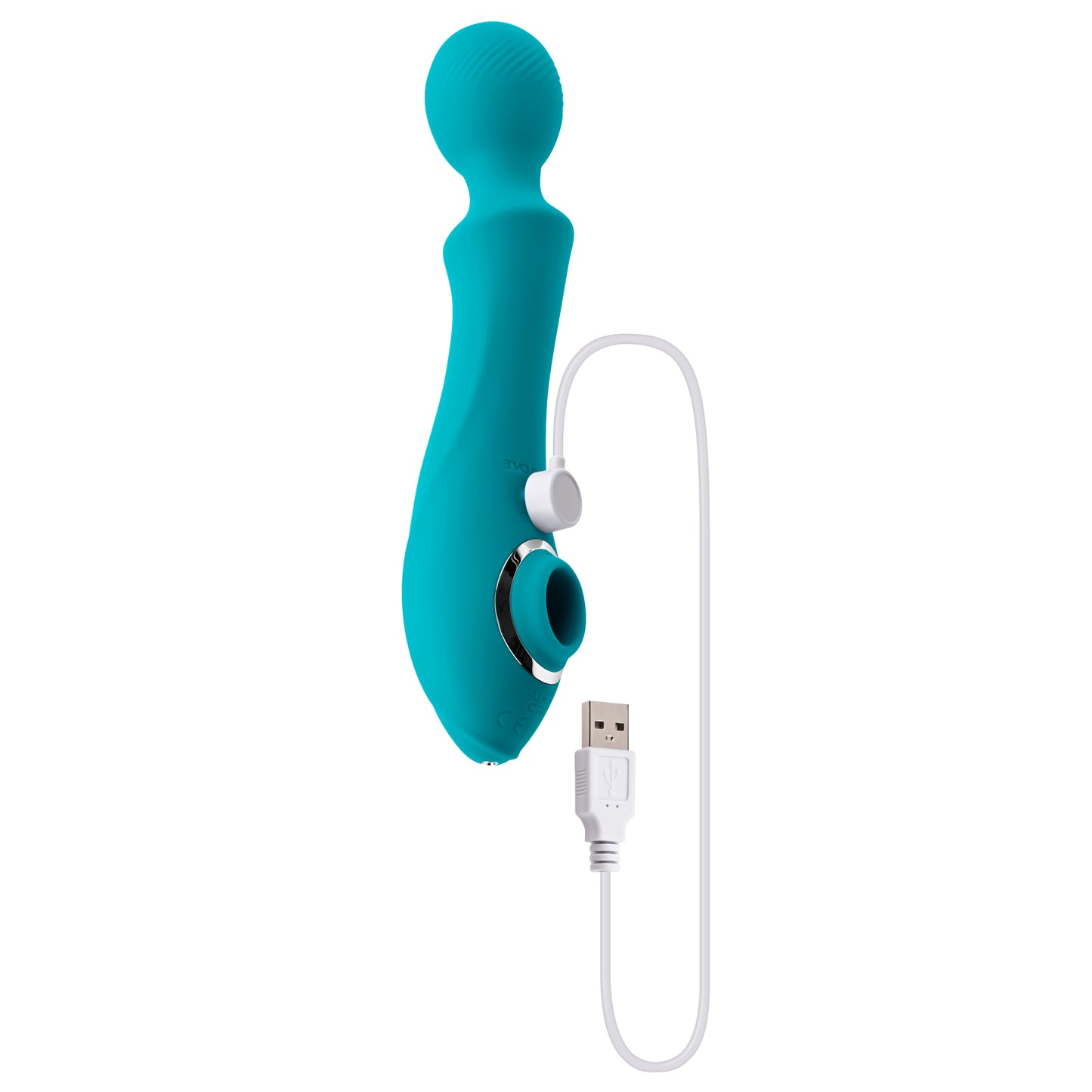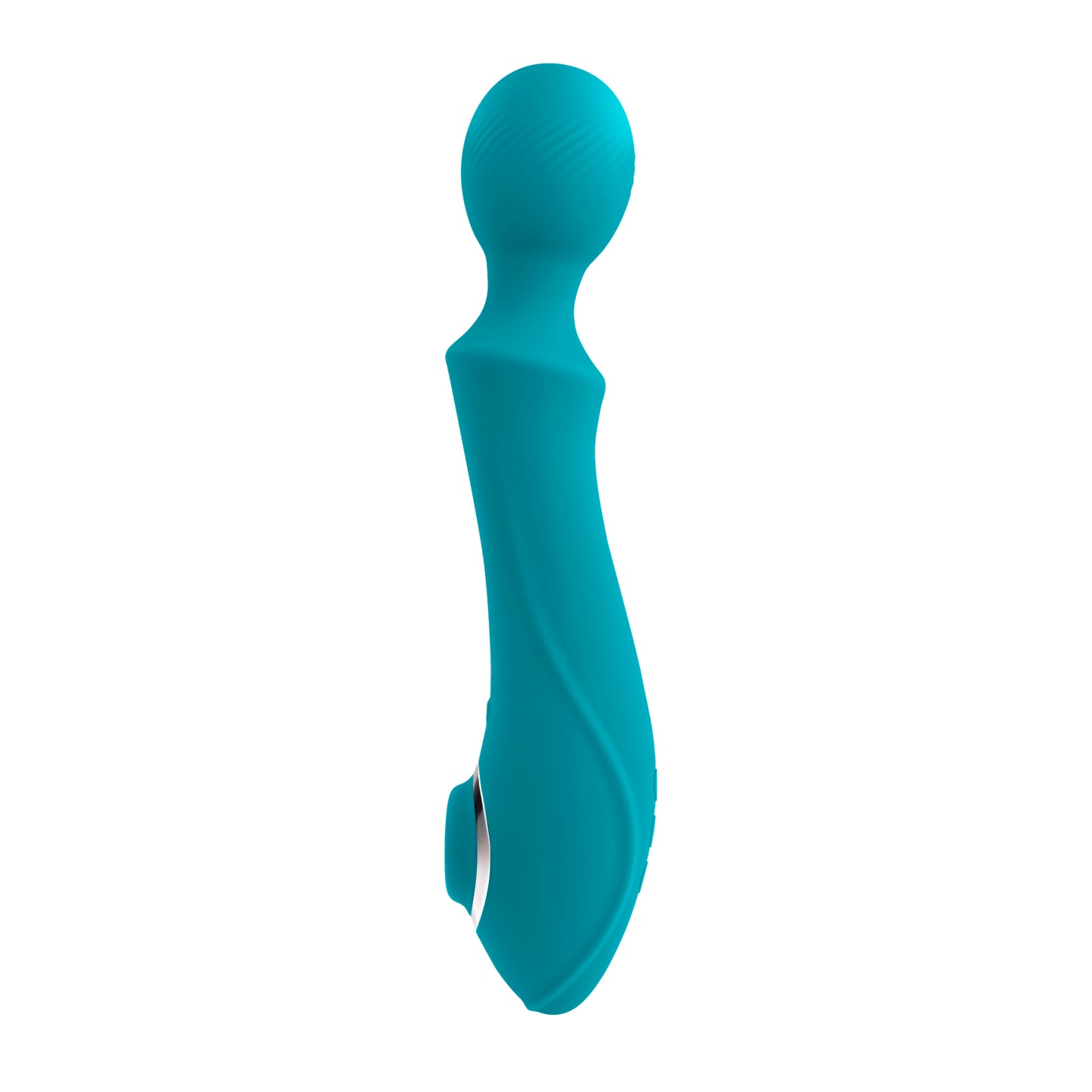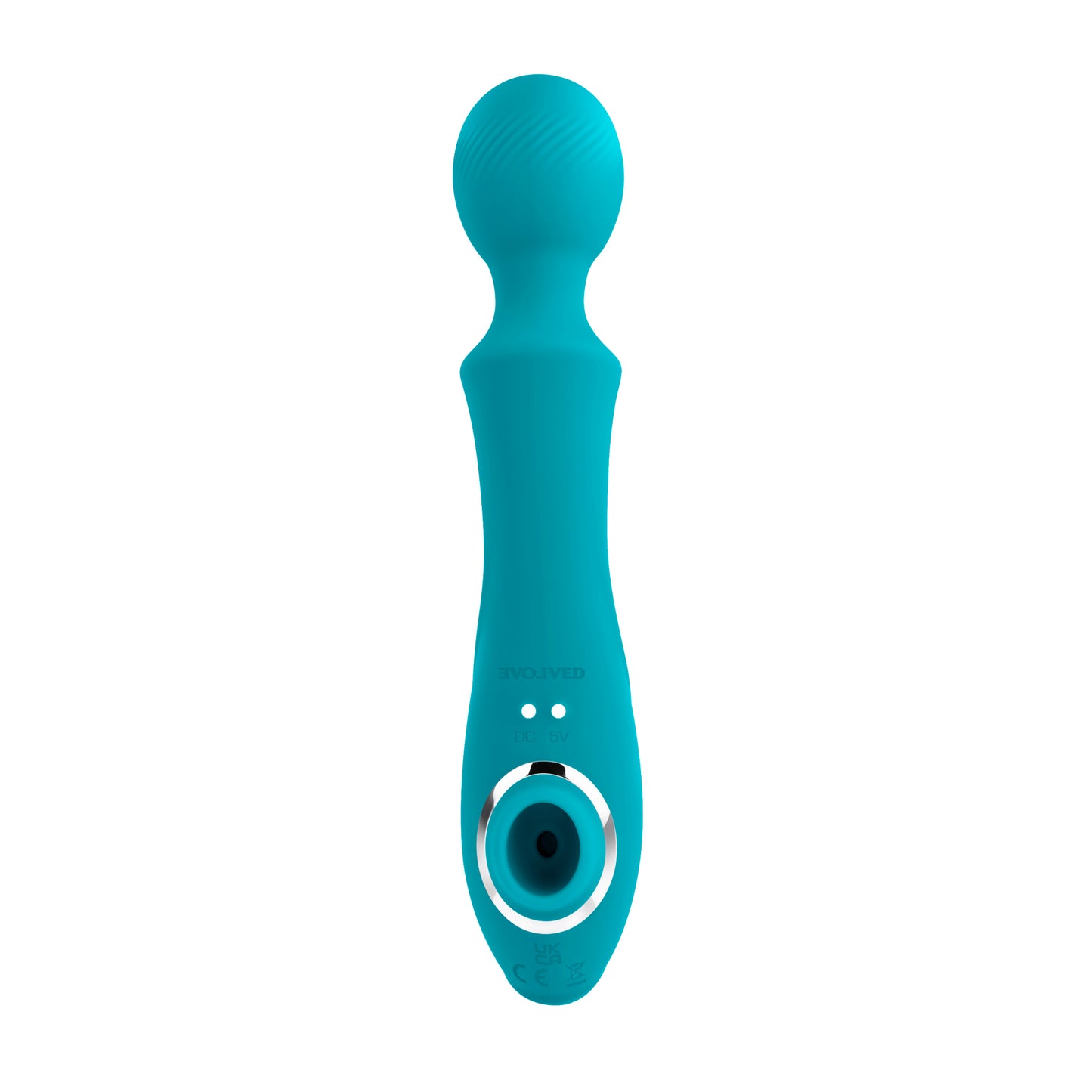 List your shipping policy
Share your domestic shipping prices

Share your international shipping prices