MedusasROC
Regular price
Sale price
$40.99 USD
Unit price
per
Sale
Sold out
Share
Dive into the world of unparalleled pleasure with the Inmi Sucky Duck, a revolutionary adult suction toy designed to redefine your intimate experiences. Crafted with sophistication and innovation, the Sucky Duck transcends conventional boundaries, offering a unique journey into desire.
Experience the artistry of satisfaction as the Inmi Sucky Duck combines ergonomic design with powerful suction capabilities. This adult suction toy is not just a product; it's a gateway to pleasure, featuring customizable settings that adapt to your desires. Let the Sucky Duck's gentle caresses or intense pulsations guide you into a realm of ecstasy tailored to your preferences.
With its discreet yet playful design, the Sucky Duck is an ideal companion for those seeking exploration and self-discovery. The sub keyword, "Sucky Ducky," encapsulates the charm and whimsy of this intimate accessory, inviting users to embrace a blend of sophistication and lighthearted pleasure.
Compact and travel-friendly, the Inmi Sucky Duck ensures that pleasure is within reach wherever you go. Explore the depths of desire with this innovative suction toy, allowing it to become an essential part of your intimate repertoire.
Unleash your inner passions and redefine pleasure with the Inmi Sucky Duck. Elevate your sensual journey with a touch of sophistication, backed by the cutting-edge technology of this adult suction toy. Let desire take flight with the Sucky Duck, a whimsical yet powerful companion on your path to intimate satisfaction.
Inmi Shegasm Sucky Ducky Deluxe Clitoris Stimulator from XR Brands.
Elevate your play. Inmi delivers luxury through an innovative collection that will change the way you experience pleasure! Designed with function, aesthetic, and quality in mind, these vibrating toys offer nothing ordinary and everything extraordinary. Treat yourself to an intimate massage with rotation, undulation, and even suction! The creative technology hidden within each elegant device will surprise your body with new sensations. Meet your adorable new sucky ducky! Packed with power to satisfy and amuse take your new ducky friend to the bath or shower and have some solo steamy satisfaction.
Tantalize your clitoris with the clitoral sucking tip and say hello to your new best friend!
Details:
Embrace the suck of this duck with its easy to use controls choose from 7 suction intensities and find which works best for you in the moment.

Recharge this bird when the power runs low with the included USB charging cable.

Made with premium, phthalate free silicone for a body safe and worry free clitoris sucking session.

The IPX7 waterproof design makes this little bird safe to use in the shower or bath and easy to clean before or after use.

5 years warranty included!

Measurements height 3 inches, width 2.8 inches, depth 1.7 inches, suction hole diameter 0.6 inch. 
Categories: Clit Cuddlers | Clitoral | Novelty Vibrators | Rechargeable Vibrators | Sextoys for Women

Size chart
View full details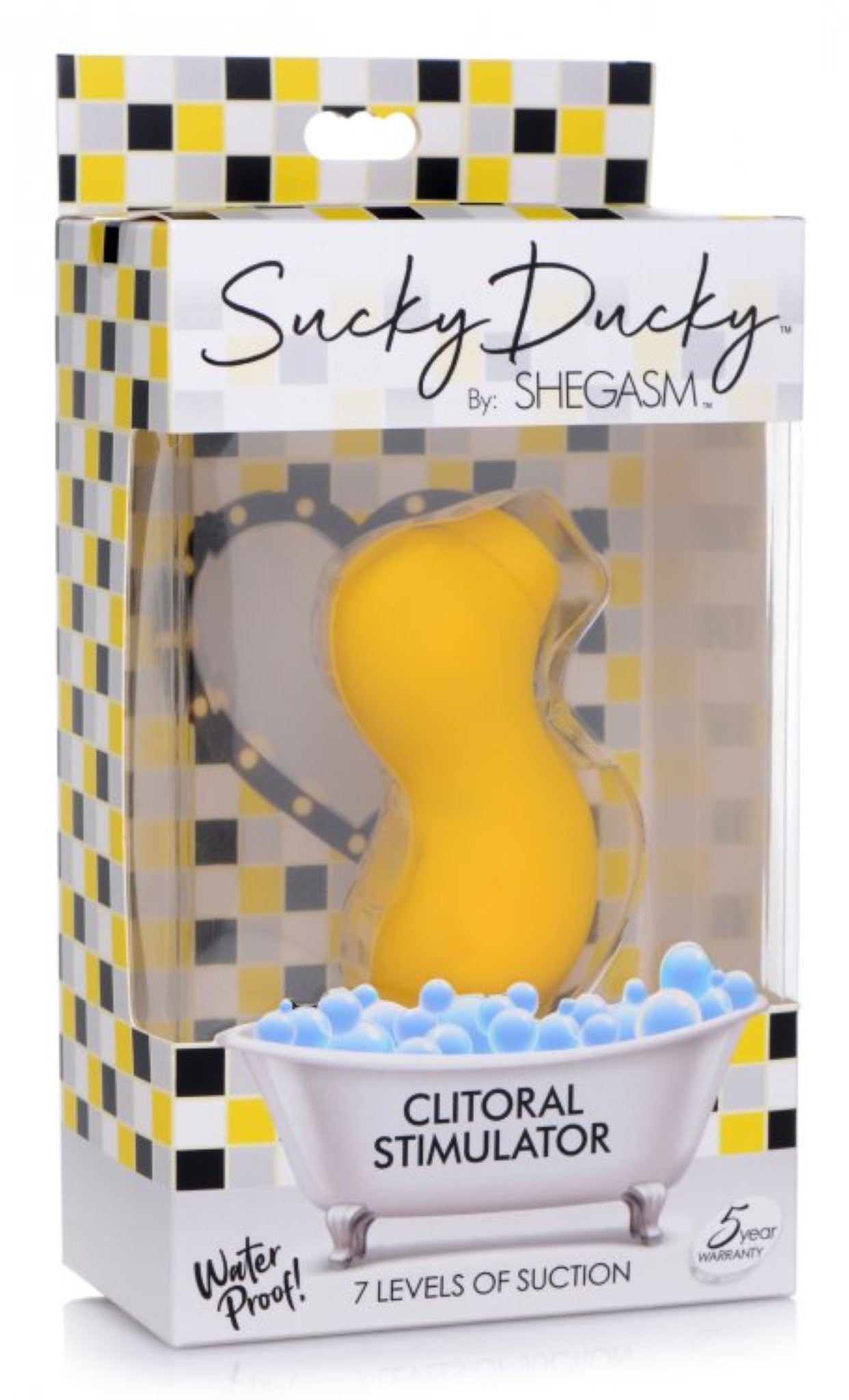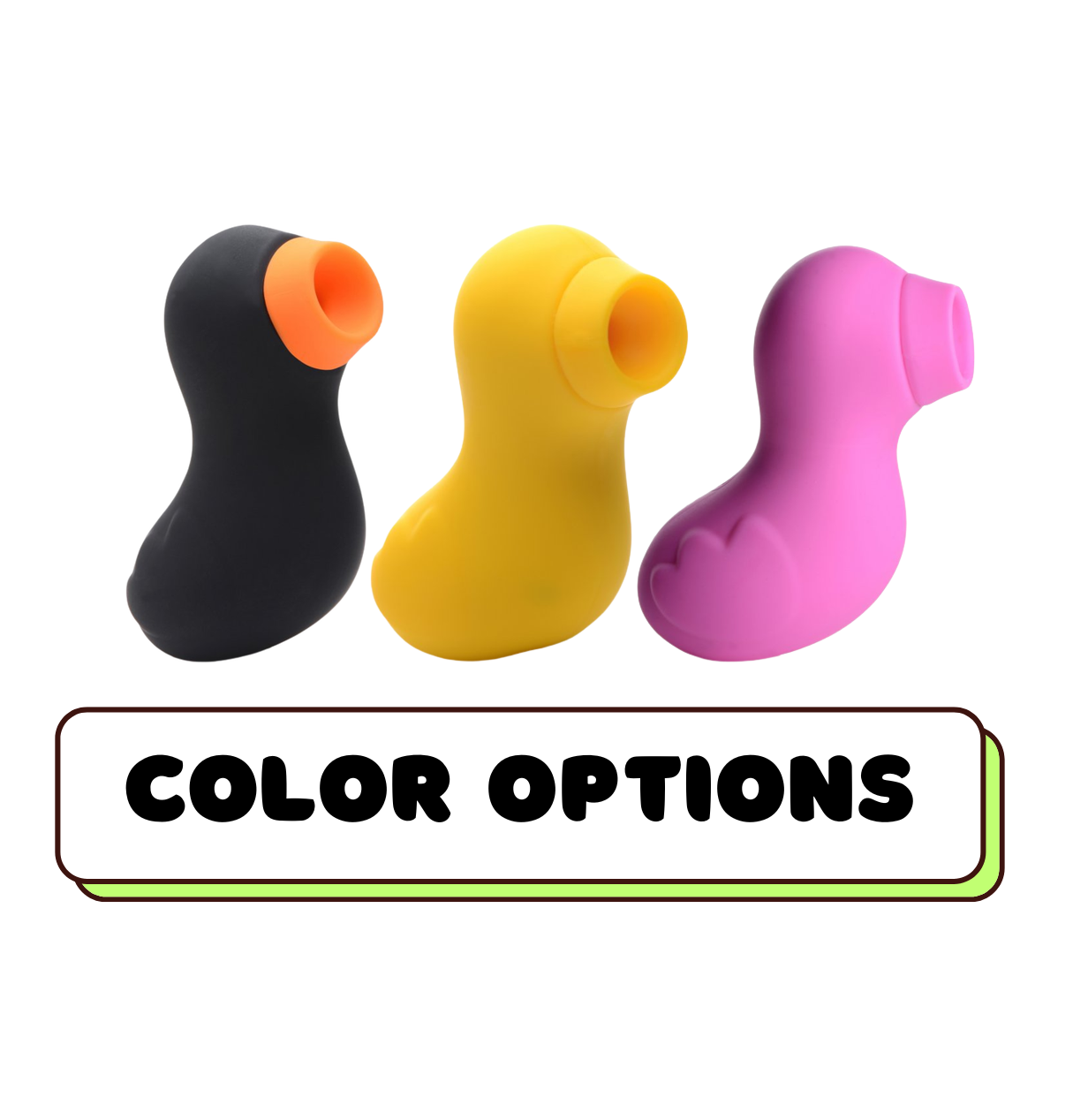 List your shipping policy
Share your domestic shipping prices

Share your international shipping prices